Colorful, attractive trays make sushi taste better!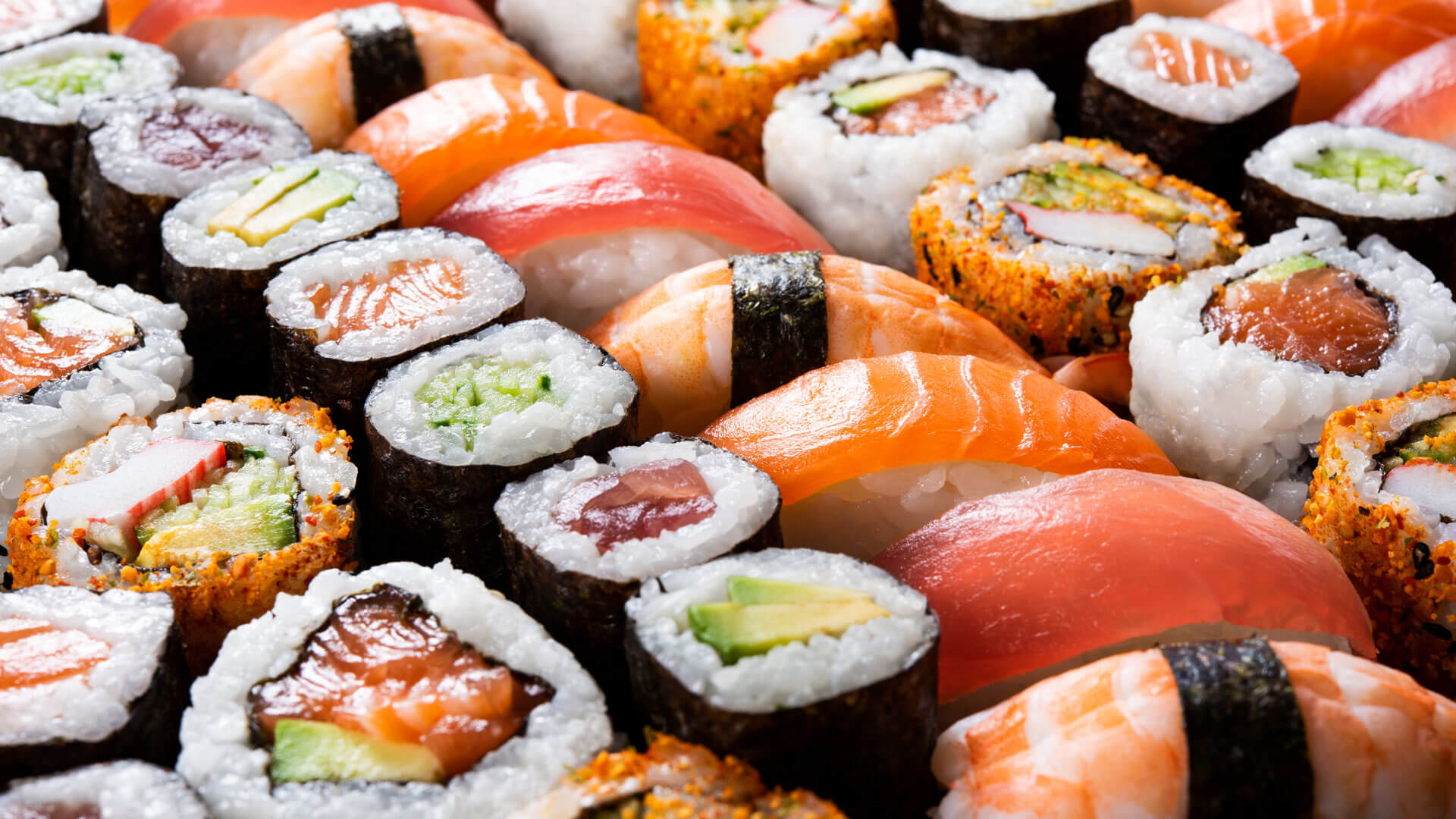 Prepackaged sushi has become a healthy meal option that is both affordable and convenient. It has expanded in global popularity since the 1990s and is now commonly found in take out food service and fast food restaurants worldwide.
Sushi trays are used to package and serve a wide range of Japanese, Chinese, and Asian-fusion dishes in a way that is attractive and appealing to consumers. The widespread adoption of sushi trays is helped by the many advantages this style of food packaging offers.
How is sushi packaged?
There are three very common features of sushi packaging that enhance the appearance, appeal, and convenience of eating sushi.
1. Smooth black finishes with colorful prints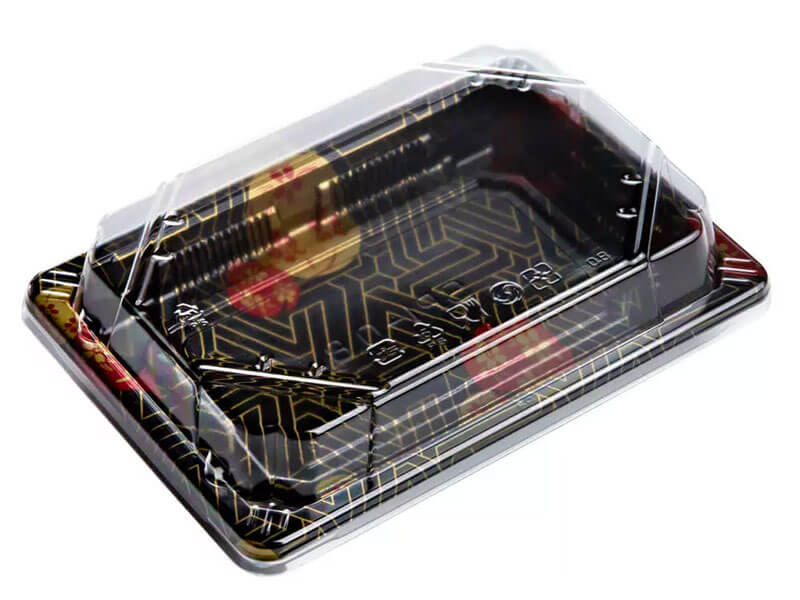 You can't underestimate the effect of color and patterns on how much people enjoy their food. Research confirms that the color of the plate, and the contrast between food color and plate color have a significant effect on how good food tastes as well as how much people eat.
Serving Sushi on colored trays is a good way to enhance the experience of eating it, and adding colorful patterns makes it seem even more attractive, especially when we know vibrant colors can make food look tastier, complementing the natural colors of the sushi.
2. Clear container lids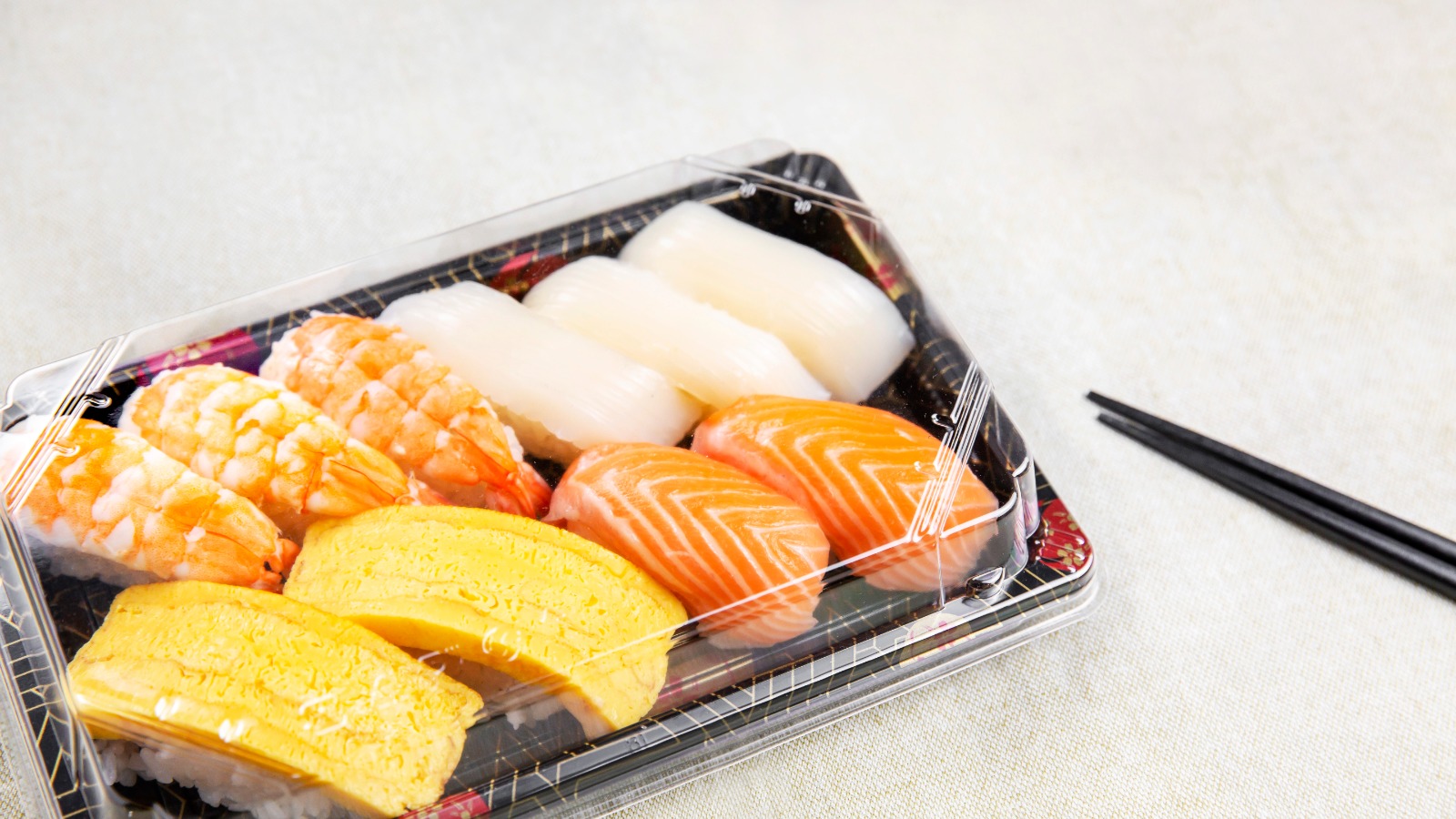 People like to see what they are going to be eating! A tight fitting lid is essential for securing and protecting the food during transport, and a clear lid enhances visual appeal. This is especially effective when you have colorful sushi tray prints to enhance the appearance of the sushi inside.
The clarity of lids is very important. Ideally the customer should not notice the lid at all,  lids also needs to be tall enough to not crush tall sushi rolls or delicate sashimi.
3. Rounded tray corners and edges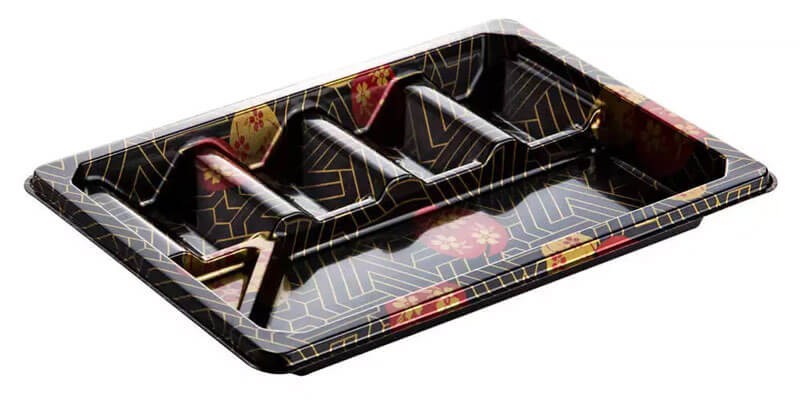 As a take out option, it is essential that sushi trays are comfortable to handle and easy to eat from. That is why people prefer trays with rounded corners and edges that securely keep the sushi in place, but are easy to hold and don't leak.
Trays may have multiple compartments to conveniently separate contents that would spoil if placed too close together. For tray manufacturers, the secret is to make a tray that is comfortable to handle by consumers and also easy to stack, transport, and fill with sushi.
Does sushi tray size matter?
Interestingly, research on how food appears on a plate suggests that when people are hungry they can judge portion sizes very accurately, and smaller plates don't make people eat less.  This is good news for the food packaging and food service industries as compact trays are more environmentally friendly and easier to transport and handle.
What makes a great sushi tray?
South Plastic manufactures a wide range of plastic food packaging containers. Our sushi tray designs are based on our long experience of manufacturing styles and sizes to suit any possible food service need.
These are some of the features of our sushi trays that make them the preferred choice for our customers:
Grease-resistant & leak-resistant
Sturdy & durable construction
Range of sizes to suit all types of sushi presentation
Available with curving edges or rounded corners
Two piece lid separation from base for customer convenience
Easy to attach snap-on lids
Secure lids keep meals fresh
Wide range of colors
Unique patterns
Authentic Japanese laminations
Contact us to discover how we can supply you with the perfect sushi tray to meet your take out or food service food packaging needs.