Tamper evident packaging is packaging that incorporates a device that will allow consumers to see if a package has been previously opened or tampered with. This type of packaging has become even more important over the last few years of the Covid epidemic. Tamper evident packaging inspires consumer confidence that the products they are receiving are safe and have not been interfered with.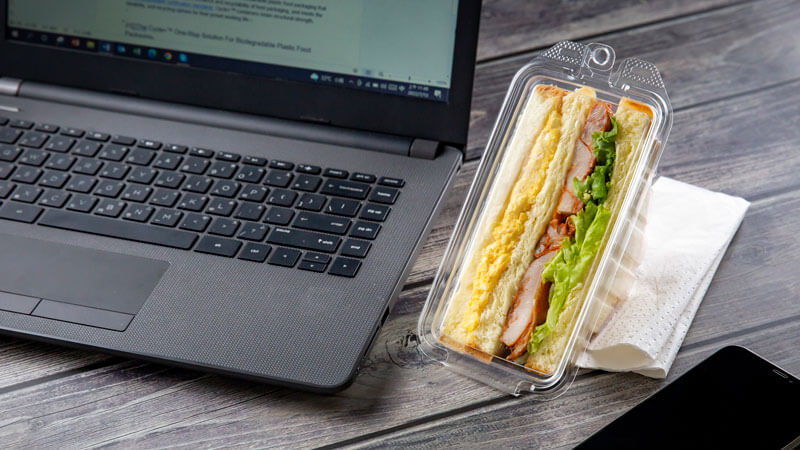 When is tamper evident packaging used?
In prepared foods from a supermarket or food service location; snacks, sandwiches, fresh cut fruits salads or other take-out foods are sealed in the containers and sold to the customers. At the point of sale, the tamper proof packaging is already in place to make sure the customer can be confident in the safety of the food they are buying.
Tamper Evident Packaging :
Includes a visible seal that is broken upon opening
Is mainly used for prepared foods and take out foods
Reduces the risk of intentional contamination / tampering
Reasons why you need tamper evident food packaging :
Food safety is a critical issue for global brands. Cases of tampering or contamination happen regularly, and highlight the need to invest in tamper proof packaging to protect your customers and your brand :
Needles in Strawberries: Australia 2018
Around the country there were reports in the media of consumers finding needles in packs of strawberries from a single farm on the Sun Coast.
Pins in Bread: Germany 2018
In many bakeries in the southwestern German town of Offenburg pins were discovered within loaves of bread.
Razor Blades in Pizza Dough: USA 2021
The supermarket chain Hannafords had to issue a recall on pizza dough products after discovering that some of them had been contaminated with razor blades.
What are the different types of tamper-evident food packaging?
Non-Resealable Food Containers
By its nature most tamper evident packaging is not resealable as it is specifically designed to only be sealed and opened once. This type of packaging often also features a visible sealing strip that breaks off when the packaging is opened.
Resealable Food Containers
We do manufacture tamper evident packaging that is user resealable. This type of packaging is still tamper evident and it will incorporate a visibly broken seal on the packaging even after it is resealed by the end user.
This type of packaging may be used when buying larger food items that are not consumed at one time, and need to be resealed for refrigeration or temporary storage.
Containers with Separate Lids
Containers with separate lids are much more difficult to make tamper evident as they must have secure closures on multiple sides. This makes them more expensive than folding containers and we do not see this type of tamper proof packaging so often.
Often lidded containers are used when a retailer wants to use a different color of plastic for the lid than the base. This is very common with many food containers where a solid color base is used along with a clear lid to show off the contents of the container.
For the consumer the advantage of the lidded container is that when the lid is removed, you can more easily consume the food directly from the container.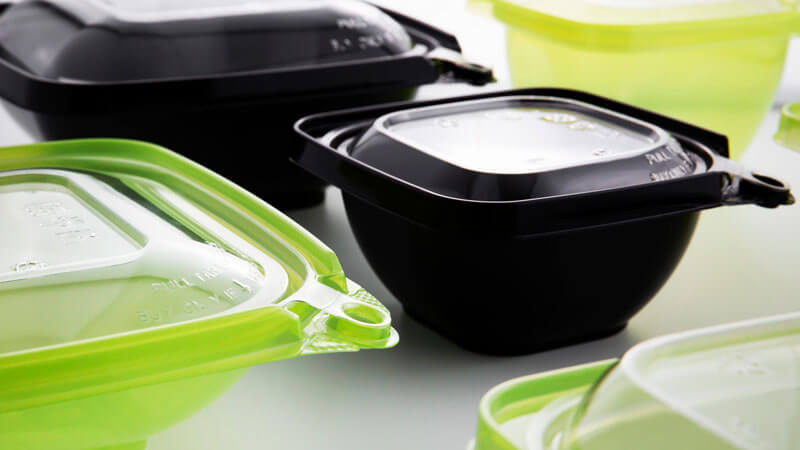 Common applications for lidded containers :
Sushi Trays
Salad Trays
Deli Trays
Microwavable Safe Containers
Folding Food Containers
Folding containers are the most common type of container that we see in the supermarket and take away food industries. They are manufactured as a single piece of plastic with a tamper evident seal on the two corners opposite the fold in the plastic.
These types of containers are quite secure and very suitable for take away and food service applications. When the container is opened for the first time the seal will break and the packaging usually cannot be resealed.
Common applications for folding containers :
Salad / Deli Bars
Take Away Foods
Supermarket Fresh Foods
Tamper Proof vs. Tamper Evident Packaging
Although the phrase "tamper proof" is often used to refer to packaging, there is not really any such thing as most packaging types can be physically damaged or tampered with in some way.
The key feature is that if the packaging has been tampered with, then it needs to be clearly "evident" to the consumer at the time of purchase. So our goal is not to make packaging that cannot be opened at all, but rather to make sure that any tampering is easily visible.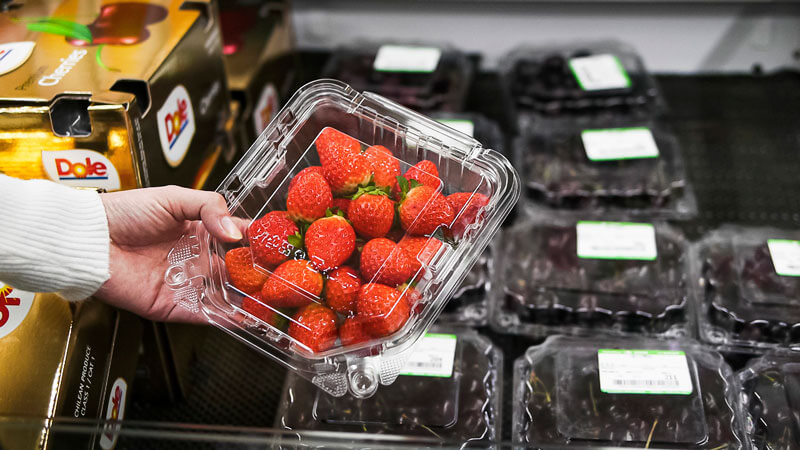 South Plastic tamper evident food packaging
Our tamper evident packaging is ahead of the competition, we can provide both single piece and two part containers. Our two part containers are available in a range of sizes and colors to suit your needs and for large volume customers we also offer customized solutions as well.
To find out more about our solutions for food safety please click here.